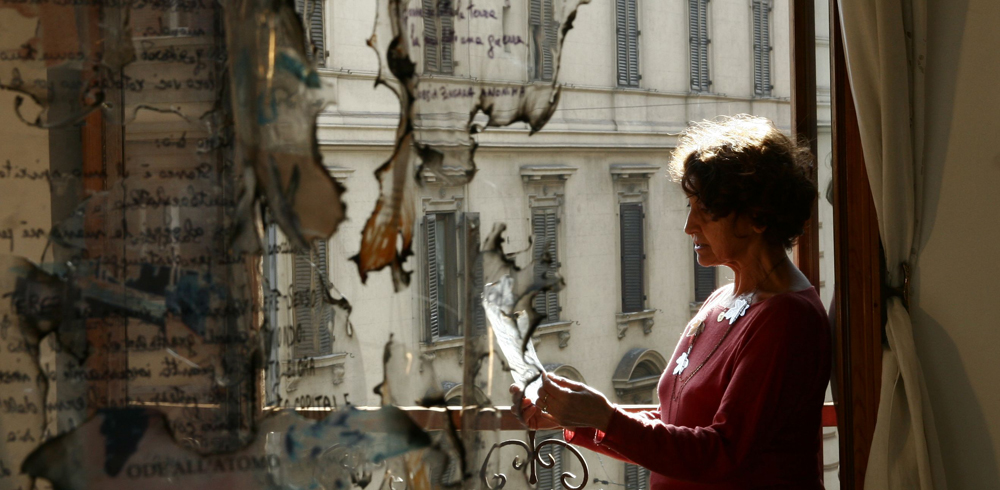 Born in Taranto, Southern Italy, she spends her childhood and teens between Italy and various foreign countries in Europe, Asia and Middle East.
She completes Classical High School Studies, obtains a degree in Political Sciences and starts working for the United Nations in difficult countries like Mozambique, Sudan, Cambodia, Angola. She lives and works  in close  contact with the dramatic problems of populations fighting for survival rather than development. At the same time, whenever possible, she attends drawing, painting, printing courses during her assignments in Italy and abroad.  From 1991 to 1995 lives and works in Namibia, where she carries on with her academic training in art making by enrolling for the Bachelor in  Visual Arts degree courses at the University of South Africa (UNISA).  She passes the final examination in painting and practical subjects in 2001.
The same year  2001 she puts up a  solo exhibition at the Rome Palaexpo Roofgarden.
"Masella's style is intriguing and free, personal however closely  linked to the pseudo-intimate modernity of machines" writes Massimo Petruziello, poet and chess player, on this occasion.
In 2003 she is awarded the Prize of Critique at the International Competition ESPOARTE
"…for the complexity and originality in structure, narrative and composition as well as for the effective combination of visual art and poetic composition", and, as winner of the above prize, she puts up a personal exhibition in Turin, Italy, in 2004.
She  takes part in various group exhibitions among which:
2002  Fifth International exhibition of the Woman Artist, Images of Art Contemporary Art Center, La Rocca, Umbertide, Perugia, Italy
2004  Come l'ombra, Government Archives Building, Rome, to celebrate the centenary of the birth of Marguerite Yourcenar
– 2006 Group exhibition of  the Massenzio Art International Competition , Rome
In 2006 and 2009 selected for the group exhibition of theInternational Competition Massenzio Arte, Rome
In 2010 she is invited to participate in the Ar(t)cevia International Art Festival with her Installation "Take a poem in your hands".
In 2011, on the occasion of the Seventh National Day of Contemporary Art, 8-9 October, opened the studio to the public with an exhibition of the last series of her works, I desideri sono già ricordi dedicated to Italo Calvino, and various other cultural events.
From October to December 2011, as volunteer of the Jane Goodall Foundation – Italia Onlus, she organized art labs at Di Donato Primary School, Rome, for recycling plastic and waste paper and wood.  Money from the sale of the objects produced went to the Sanganigwa Children's Home, Tanzania, for the AIDS orphans and street children. (video)
In March and April 2012, invited by the Local Committee Colli Aniene, she organizes other art labs for recycling plastic addressed to the students of two secondary schools in the frame of the Information and Environmental Project in collaboration with WWF, AMA, etc.  
She presently lives and works in Rome.